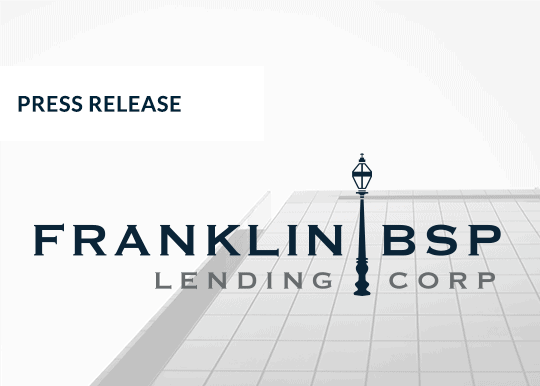 June 21, 2022
Franklin BSP Lending Corp. Completes $235 Million Equity Capital Raise and Secures $495 Million Corporate Revolver
View Press Release
NEW YORK–(BUSINESS WIRE)–Franklin BSP Lending Corp. ("FBLC") today announced the completion of a $235 million equity capital raise and a $495 million corporate revolver.
With the capital raise, FBLC will have over $1.7 billion in equity and capital commitments, solidifying it as one of the largest Business Development Companies ("BDCs") by equity once fully called. Benefit Street Partners now manages over $2.3 billion in BDC equity and capital commitments through its two BDCs, FBLC and Franklin BSP Capital Corp. ("FBCC").
FBLC also announced it had entered into a corporate revolving facility, securing $495 million in commitments. The transaction offers increased flexibility at an attractive cost of capital, while strengthening its balance sheet. JP Morgan Chase Bank, MUFG Bank, Ltd., Sumitomo Mitsui Banking Corporation and Wells Fargo Securities served as joint bookrunners and lead arrangers.
Richard Byrne, CEO of FBLC, commented: "The capital raise and additional borrowing capacity strengthen our balance sheet, which we believe could be especially valuable in the current market environment. These also provide additional capital to deploy given our robust private debt pipeline. We believe our shareholders will meaningfully benefit from these transactions, and we look forward to continuing to generate strong returns for our investors."
About Benefit Street Partners
Benefit Street Partners L.L.C. is a leading credit-focused alternative asset management firm with approximately $40 billion in assets under management as of April 30, 2022. BSP manages assets across a broad range of complementary credit strategies, including private/opportunistic debt, structured credit, high yield, special situations, long-short liquid credit and commercial real estate debt. Based in New York, the BSP platform was established in 2008. BSP is a wholly owned subsidiary of Franklin Resources, Inc. For further information, please visit www.benefitstreetpartners.com.
About Franklin BSP Lending Corp.
FBLC is a non-listed business development company with a $2.7 billion investment portfolio at fair value as of March 31, 2022. In January 2022, Franklin BSP Lending Corp. changed its name from Business Development Corp. of America. FBLC's investment portfolio primarily consists of loans to middle-market companies. FBLC has elected to be regulated as a business development company under the Investment Company Act of 1940, as amended. FBLC is managed by its investment adviser, Franklin BSP Lending Adviser, L.L.C., an affiliate of Benefit Street Partners L.L.C. For further information, please visit www.fblendingcorp.com. This press release is not an offer to sell any securities issued by FBLC and is not soliciting an offer to buy such securities.