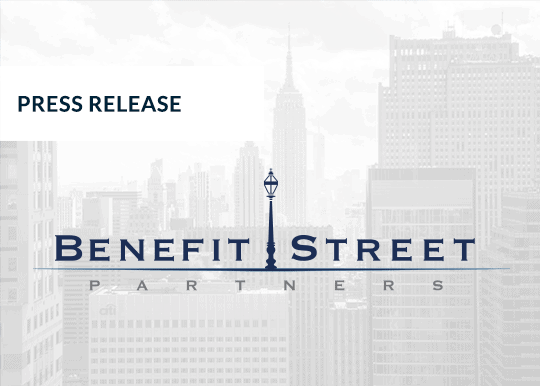 September 12, 2018
Stephen Sachman and Patrick White Join Benefit Street Partners as Managing Directors
NEW YORK–(BUSINESS WIRE)–Benefit Street Partners L.L.C. ("BSP"), a leading credit-focused alternative asset management firm with approximately $25 billion in assets under management across a broad range of credit strategies, today announced that Stephen Sachman and Patrick White have recently joined the firm as managing directors on BSP's private debt origination team. Mr. Sachman is based in BSP's New York office, and Mr. White is based in the firm's newly established San Francisco office.
"Steve and Pat are both seasoned industry veterans with deep knowledge of the private debt market landscape," said Thomas Gahan, Founder and Chief Executive Officer of BSP. "Their considerable expertise will be a tremendous asset for us as we continue to enhance our origination platform and capitalize on investment opportunities across a wide range of industries. We are particularly excited to add a west coast origination presence to our platform, which has been an important focal point of our growth strategy."
Larry Zimmerman, Head of Private Debt Origination, added, "We are pleased to welcome Steve and Pat to the BSP origination team and look forward to leveraging their significant private debt investing experience and strong relationships with middle market financial sponsors and intermediaries that are an ideal fit for our platform."
Mr. Sachman has over a decade of private credit investment experience and an extensive track record of providing financing solutions throughout the credit cycle. Prior to joining BSP, he spent 12 years as a Managing Director at BlackRock, where he focused on providing direct lending solutions including second-lien, mezzanine and unitranche financings. Previously, Mr. Sachman spent nine years at Deutsche Bank Securities, where he was the head of building products/homebuilding investment banking.
Mr. White has nearly two decades of credit experience including originating, underwriting and managing leveraged transactions for corporate and financial sponsor clients across the world. He joins BSP from Monroe Capital, where he spent five years as Managing Director and Co-Head of Technology, focusing on providing enterprise value, cash flow and recurring revenue loans in support of recapitalizations, refinancing, acquisitions and expansion to middle market and lower middle market companies across all industries in the U.S. and Canada. Prior to Monroe Capital, Mr. White was a Principal at H.I.G. Capital, where he worked in the credit and lending arm, WhiteHorse Capital.
About Benefit Street Partners
Benefit Street Partners L.L.C. is a leading credit-focused alternative asset management firm with approximately $25 billion in assets under management. BSP manages assets across a broad range of complementary credit strategies including private/opportunistic debt, structured credit, high yield, special situations, long-short liquid credit and commercial real estate debt. BSP is in partnership with Providence Equity Partners L.L.C., a leading global private equity firm with more than $50 billion in capital under management. The BSP platform was established in 2008 and is based in New York. For further information, please visit www.benefitstreetpartners.com.
Contacts
For BSP:
Sard Verbinnen & Co. Andrew Cole / Kelsey Markovich
212-687-8080
[email protected]