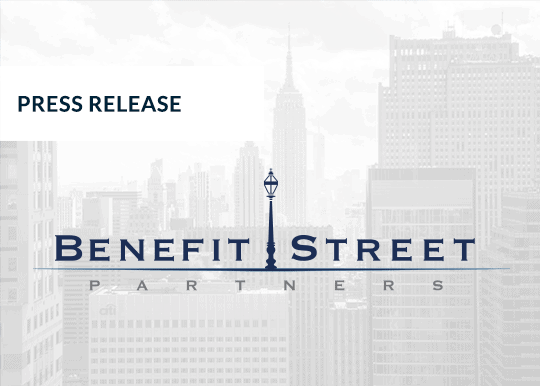 February 4, 2015
Ray Costa Joins Benefit Street Partners
RAY COSTA JOINS BENEFIT STREET PARTNERS AS A MANAGING DIRECTOR
Veteran Distressed Debt Trader Brings Extensive Industry Experience to BSP
________________________________________________
New York, NY – February 4, 2015 – Benefit Street Partners and its affiliates ("BSP"), the
credit investment arm of Providence Equity Partners, announced that Ray Costa has joined the
firm as a Managing Director. Mr. Costa joins BSP from Deutsche Bank Securities, Inc., where
he most recently served as a Managing Director and co-head of credit trading in North America.
Mr. Costa will lead BSP's event driven/distressed investing platform, reporting to Thomas
Gahan, Founder and Chief Executive Officer of BSP.
"Ray is a seasoned leader who brings a deep understanding of credit markets and a strong
network of relationships throughout the industry," said Mr. Gahan. "He will be a valuable team
player whose expertise in distressed debt will expand BSP's platform and enhance our team's
ability to capitalize on the substantial opportunities in the global credit markets. Many on our
team have worked with Ray for over a decade. We are all excited to welcome him to BSP."
"This is a great new opportunity for me to join a world-class team focused on credit," said Mr.
Costa. "I look forward to building a distressed debt business that will contribute to the group's
continued success."
While serving as a Managing Director at Deutsche Bank Securities, Inc., Mr. Costa's
responsibilities ranged from the global head of distressed debt trading to co-head of credit fixed
income trading in North America. Prior to joining Deutsche Bank, he traded a variety of credit
fixed income products at Donaldson, Lufkin and Jenrette Securities Corporation as well as Swiss
Bank Securities. Mr. Costa earned a Bachelor of Arts from the State University of New York at
Albany.
About BSP
Established in 2008, BSP and affiliates manage over $9 billion in assets across a broad range of
credit strategies including high yield, levered loans, private / opportunistic debt, liquid credit,
structured credit and commercial real estate debt. BSP utilizes fundamental credit analysis,
proprietary sourcing, due diligence, sophisticated structuring and comprehensive risk
management across all the credit strategies it manages. For further information, please visit
www.benefitstreetpartners.com.
BSP Contacts:
Andrew Cole / Brian Shiver
Sard Verbinnen & Co
212.687.8080