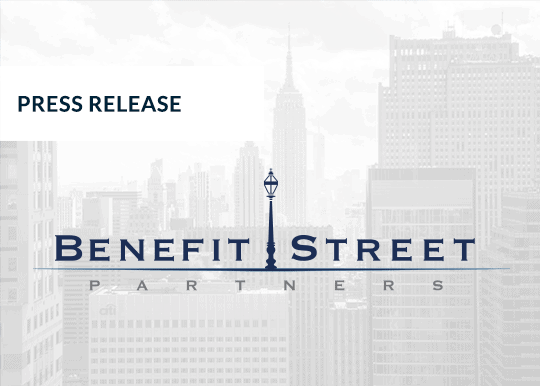 July 10, 2017
Benefit Street Partners Names Michael Comparato the New Head of Commercial Real Estate Unit
Replaces Scott Waynebern, Who is Leaving the Firm After Successfully Building Out The CRE Platform
New York, NY, July 10, 2017 — Benefit Street Partners L.L.C. ("BSP"), a leading credit-focused alternative asset management firm with over $20 billion in assets under management across a broad range of credit strategies, today announced that BSP's Head of Commercial Real Estate, Scott Waynebern, will be leaving the firm after a transition period to pursue other opportunities and that Michael Comparato, Managing Director and previously Head of Balance Sheet Lending & Equity Investment Strategies for BSP's Commercial Real Estate group, has been appointed the new Head of the Commercial Real Estate unit.
"Scott has been instrumental in building our commercial real estate franchise from the ground up over the past four and a half years," said Thomas Gahan, Founder and Chief Executive Officer at BSP. "Under his leadership, the platform has expanded to 44 employees and originated over $3 billion in commercial mortgages. Scott played an integral role in establishing our commercial mortgage ("CMBS") loan conduit, repositioning our newly acquired commercial mortgage REIT ("Benefit Street Partners Realty Trust") and originating multiple Freddie Mac B piece purchases. Importantly, he also helped recruit top talent to BSP, including Michael. We thank Scott for his many contributions to the firm and look forward to partnering with him in future investment opportunities."
Mr. Gahan continued, "Since joining BSP in 2015, Michael has added tremendous value through his deep expertise, leadership and strong relationships. We are confident he will continue the growth and success of our CRE platform."
Mr. Waynebern said, "This has been a rewarding opportunity, and I thank all of my colleagues at BSP. Michael has 18 years of experience in real estate finance and has been working closely with me for the past two years as we've built out our commercial real estate platform. I am confident that he is the right person to lead BSP's commercial real estate group into its next phase of growth. While I am excited to pursue other opportunities, I look forward to continuing my personal and professional relationship with the BSP team."
About Benefit Street Partners Benefit Street Partners L.L.C. is a leading credit-focused alternative asset management firm with over $20 billion in assets under management. BSP manages assets across a broad range of complementary credit strategies including private/opportunistic debt, structured credit, high yield, special situations, long-short liquid credit and commercial real estate debt. BSP is in partnership with Providence Equity Partners L.L.C., a leading global private equity firm with more than $50 billion in capital under management. The BSP platform was established in 2008 and is based in New York. For further information, please visit www.benefitstreetpartners.com.
BSP Contacts:
Andrew Cole / Kelsey Markovich
[email protected]
Sard Verbinnen & Co.
212.687.8080