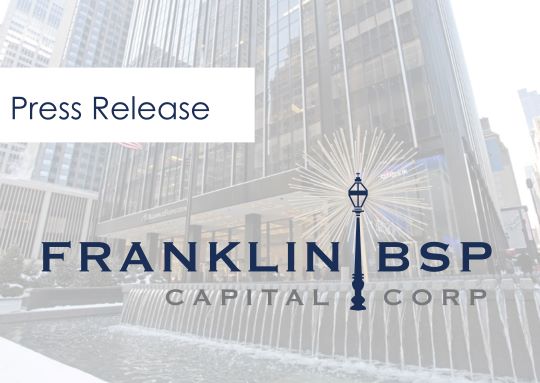 April 26, 2021
Benefit Street Partners Closes Early Equity Commitments into Franklin BSP Capital Corporation
NEW YORK – April 26, 2021 – Benefit Street Partners L.L.C. ("BSP"), a subsidiary of Franklin Templeton and a leading credit-focused alternative asset management firm with $30 billion in assets under management, today announced the closing of equity commitments into Franklin BSP Capital Corporation ("FBCC" or the "Fund"). FBCC is a closed-end management investment company that has elected to be regulated as a business development corporation ("BDC") whose investment adviser is an affiliate of BSP. The Fund has raised approximately $550 million in early closings from a combination of institutional and high net worth investors in accordance with certain exemptions from the registration requirements of the Securities Act of 1933, as amended.
FBCC intends to use the net proceeds to invest primarily in first and second lien senior secured debt investments and, to a lesser extent, mezzanine and unsecured debt issued by middle market companies in accordance with its investment objective and strategies, and for general corporate purposes.
This press release does not constitute an offer to sell or the solicitation of an offer to buy the securities described above, and shall not constitute an offer, solicitation or sale in any state or jurisdiction in which such an offer, solicitation or sale would be unlawful.
About Benefit Street Partners
Benefit Street Partners L.L.C. ("BSP") is a leading credit-focused alternative asset management firm with over $30 billion in assets under management as of March 31, 2021. BSP manages assets across a broad range of complementary credit strategies, including private/opportunistic debt, structured credit, high yield, special situations, and commercial real estate. Based in New York, the BSP platform was established in 2008. BSP is a wholly owned subsidiary of Franklin Templeton. For further information, please visit www.benefitstreetpartners.com.
About Franklin Templeton
Franklin Resources, Inc. [NYSE:BEN], is a global investment management organization with subsidiaries operating as Franklin Templeton and serving clients in over 165 countries. Franklin Templeton's mission is to help clients achieve better outcomes through investment management expertise, wealth management and technology solutions. Through its specialist investment managers, the company brings extensive capabilities in equity, fixed income, multi-asset solutions and alternatives. With offices in more than 30 countries and approximately 1,300 investment professionals, the California-based company has over 70 years of investment experience and approximately $1.5 trillion in assets under management as of March 31, 2021. For more information, please visit franklintempleton.com and follow us on LinkedIn, Twitter, and Facebook.
Important Notice
This press release contains "forward looking statements" that are subject to risks and uncertainties. Statements other than statements of historical facts included in this press release may constitute forward-looking statements and are not guarantees of future performance or results and involve a number of risks and uncertainties. Actual outcomes and results, including the use of proceeds, could differ materially from those suggested in this press release due to the impact of many factors, including those beyond the control of FBCC and those listed in the "Risk Factors" section of FBCC's filings with the Securities and Exchange Commission. All forward-looking statements speak only as of the date of this press release. FBCC assumes no obligation to update or revise any such forward looking statements. FBCC has based these forward-looking statements on its current expectations and projections about future events. FBCC believes that the expectations and assumptions that have been made with respect to these forward-looking statements are reasonable. However, such expectations and assumptions may prove to be incorrect. A number of factors could lead to results that may differ from those expressed or implied by the forward-looking statements. Given this level of uncertainty, undue reliance should not be placed on any forward-looking statements.
Media Contacts:
Corporate Communications: Pholida Barclay
(212) 632-3204, [email protected]
Prosek Partners: Kate Dillion
(518) 859-2892, [email protected]