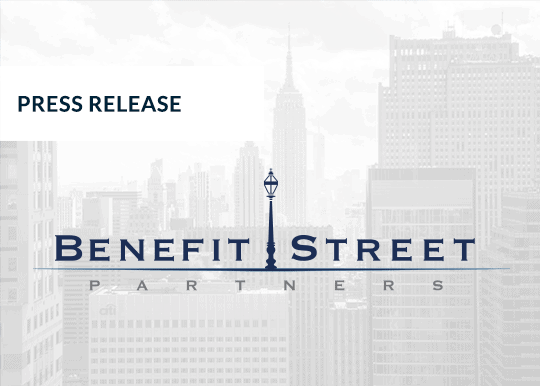 February 10, 2020
Benefit Street Partners Acquires Assets from Broadstone Real Estate
NEW YORK – February 11, 2020 – Benefit Street Partners ("BSP"), a leading credit-focused alternative asset management firm with $27 billion in assets under management, today announced the purchase of certain real estate related assets from Broadstone Real Estate, LLC ("Broadstone"). As part of the transaction, BSP was appointed the new investment adviser to two real estate focused funds, effective immediately. In total, the transaction adds over $450 million in alternative assets under management to the firm. BSP also hired Broadstone's distribution team of sales specialists. The terms of the transaction were not disclosed.
The purchase expands Benefit Street Partners' real estate platform, which has been focused on commercial real estate debt. BSP currently manages a commercial mortgage REIT, Benefit Street Partners Realty Trust, Inc., with $3.2 billion in total assets under management. The two Broadstone funds include a private multi-family REIT, Broadtree Residential, Inc., and a real estate focused interval fund.
"This transaction brings a strong team of real estate investment professionals and alternative sales specialists to BSP," said Richard Byrne, President of Benefit Street Partners. "The addition of these funds and distribution capabilities will serve to grow and enhance our platform."
Willkie Farr & Gallagher LLP served as legal counsel to BSP.
About Benefit Street Partners
Benefit Street Partners L.L.C. ("BSP") is a leading credit-focused alternative asset management firm with over $27 billion in assets under management as of December 31, 2019. BSP manages assets across a broad range of complementary credit strategies, including private/opportunistic debt, structured credit, high yield, special situations, and commercial real estate. Based in New York, the BSP platform was established in 2008. BSP is a wholly owned subsidiary of Franklin Templeton. For further information, please visit www.benefitstreetpartners.com.
About Franklin Templeton
Franklin Resources, Inc. [NYSE:BEN] is a global investment management organization operating as Franklin Templeton. Franklin Templeton's goal is to deliver better outcomes by providing global and domestic investment management to retail, institutional and sovereign wealth clients in over 170 countries. Through specialized teams, the company has expertise across all asset classes, including equity, fixed income, alternatives and custom multi-asset solutions. Franklin Templeton's Alternatives capabilities comprise a broad range of strategies with $41 billion in assets under management. This includes alternative credit strategies that span private credit, special situations/distressed, structured credit and commercial real estate. In addition, the firm offers private equity, hedge strategies, real assets and venture capital strategies.
Franklin Templeton's more than 600 investment professionals are supported by its integrated, worldwide team of risk management professionals and global trading desk network. With offices in over 30 countries, the California-based company has more than 70 years of investment experience and approximately $688 billion in assets under management as of January 31, 2020. For more information, please visit www.franklinresources.com.