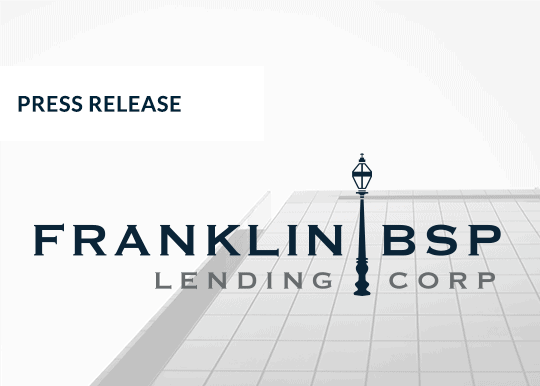 October 6, 2021
FBLC (formerly BDCA) Announces Change to Distribution and a Special Dividend
BDCA Announces Change to Distribution and a Special Dividend
New York, New York, —On September 29, 2021, the Board of Directors (the "Board") of Business Development Corporation of America ("BDCA" or the "Corporation") declared a regular quarterly cash dividend of $0.13 per share (the "Third Quarter Dividend") and a special distribution of $0.02 per share of the Corporation's common stock, payable on or around October 1, 2021 to stockholders of record as of September 30, 2021. The Third Quarter Dividend represents an increase of $0.03 per share from the prior quarter's regular dividend.
About BDCA
BDCA is a non-traded business development company with a $2.5 billion investment portfolio, which primarily consists of loans to middle market companies, as of June 30, 2021. BDCA operates under the Investment Company Act of 1940. BDCA is managed by its investment adviser, BDCA Adviser, LLC, an affiliate of Benefit Street Partners L.L.C. This press release is not an offer to sell any securities issued by BDCA and is not soliciting an offer to buy such securities. For further information, please visit www.bdcofamerica.com.
About Benefit Street Partners
Benefit Street Partners L.L.C. is a leading credit-focused alternative asset management firm with approximately $34 billion in assets under management. BSP manages assets across a broad range of complementary credit strategies, including private/opportunistic debt, structured credit, high yield, special situations, long-short liquid credit and commercial real estate debt. Based in New York, the BSP platform was established in 2008. BSP is a wholly owned subsidiary of Franklin Resources, Inc. For further information, please visit www.benefitstreetpartners.com.
About Franklin Templeton
With 70 years of investing experience, Franklin Templeton is a global leader in asset management, serving clients in over 170 countries. Through its specialized teams, Franklin Templeton helps investors achieve better outcomes by offering investment expertise that spans traditional to alternative strategies and multi-asset solutions.
Important Notice 
The statements in this communication that are not historical facts may be forward-looking statements, including the statements about BDCA's expectations regarding future tender offers under the SRP. These forward-looking statements involve risks and uncertainties, including those related to economic uncertainty in light of the ongoing COVID-19 pandemic, that could cause the outcome to be materially different. All such forward looking statements speak only as of the date they are made, and BDCA undertakes no obligation to update or revise these statements, whether as a result of new information, future events or otherwise.
Contacts
Business Development Corporation of America
Investor Relations
[email protected]
844-785-4393